Рекламная наклейка форматом А4, размещается в салоне автобуса.
Преимущества:
- Реклама на уровне глаз пассажиров (хорошо воспринимается);
- Долгий визуальный контакт с вашей рекламой;
- Частые повторные контакты, автоматическое запоминание.
Маршруты: 5Т, 40Т, 81Т, 82Т, 83Т, 87Т, 111Т, 126Т, 9Т, 105Т, 64Т, 44Т, 21Т, 48Т, 15Т, 66Т, 78Т, 11Т, 27Т, 28Т, 40Т, 50Т, 61Т, 74Т.
Минимальное число автобусов в заказе - 20 шт.
В заказ до 40 автобусов, необходимо включить ПЕЧАТЬ СТИКЕРОВ (если этого не сделать заказ не будет запущен).
Монтаж включен в стоимость.
Маршруты автобусов указываются в личном кабинете при составлении медиаплана.
Для запуска рекламы, выберите нужное количество автобусов и нажмите клавишу "ДОБАВИТЬ В МЕДИАПЛАН".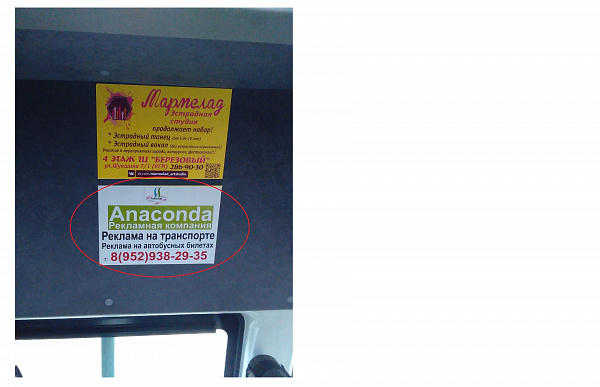 There are no reviews yet for this product.
Be the first person to add your review.
Reviews can be left only by registered users.


We support the following payment options for advertising:
To the current account under the contract
Bank transfer through a mobile bank for individuals (under the offer agreement).

Advertising is launched after 100% prepayment.
The invoice is automatically billed in your account after the seller confirms the order.
In case of late payment, the schedule for advertising may move.

If you have any questions about payment, call the toll free number +7 800 1002 592
The seller provides a report on the release of advertising after the end of the advertising campaign.

If the advertisement is not made through the fault of the seller - the seller compensates for the output of the advertisement as agreed with the customer